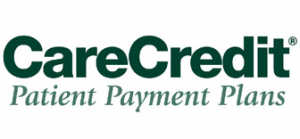 Douglas Oaks Animal Hospital does expect payment at time of services rendered. However, we do understand that often times there are unexpected emergencies that we do not budget for. We now accept payment in the form of Care Credit.
Care Credit is a financial aid that is similar to a credit card. The major difference is that transactions are eligible for 0% interest if balance is paid within the appropriate amount of time according to your individual payment plan. Care Credit is accepted at many major medical facilities such as:
Veterinary
Dental
Vision Care
Audiology
Cosmetic Surgery, etc.
HOW DO I APPLY FOR CARE CREDIT?
Application for Care Credit is easy. Simply choose one of the options below:
Online: Click on the link above and you will be taken directly to the website for Care Credit. From there, you will fill out the client applications and a decision will be made instantly.
Phone: Call (800) 365-8295 and listen to the prompts. You will receive a decision almost immediately.
Smartphone: Go to www.carecredit.com and select "Apply". You will receive a decision almost immediately.
Once approved, you will be able to use your account immediately, even without possession of your card. Give us a call and we will schedule your appointment!